Oh dear! How quickly time flies. It's been far too long since my last post.
I mostly haven't posted anything because I really haven't been sewing anything. I moved across state, and it took me fully a month before I felt like I knew where all my stuff was hiding among the boxes and bags. Doesn't make for good sewing conditions - I need to feel organized to sew.
But here's what I
have
been working on:
I'm making a carpet bag for my mom. A lady in my reenacting club created a pattern and kit for a carpet bag. My sister and I pitched in together to get a kit for my mom for mothers day. Two months on, I'm still working on it. Hey, we hit a couple snags. I'm working on it as fast as I can! Mom is being very patient and insists that it's fun to watch the construction of it. The outside is all done - I just need to finish the lining and part of the frame needs to be fixed.
I'm also making a silk bodice to go with my ballgown skirt. The fabric is the same light blue taffeta, and the trim is the same dark blue bias strips, pleated. The inspiration for the bodice is this:
I love those open-style coat sleeves - here's a weird fact about me, I hate hate hate long sleeves. I am on the tall side, and my gangly arms are always too long for anything. I hate moving my arms and feeling like they are restricted by the length of my sleeves. But I think that making the coat sleeves more open and shorter, with undersleeves, might help.
I've also been inspired by the trim on this dress: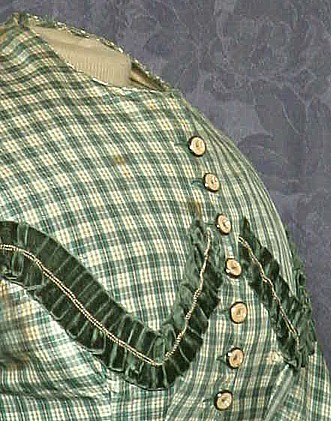 I have some buttons that are almost the same as those; and I love that pleated ribbon. I think it would be simple but attractive. As for the sleeves, I'm not sure whether I'll follow that picture of Mrs. Custer up there, or do something else...I've always admired those dresses that have the military-inspired chevrons on the the sleeves, but I'm not sure how well that would translate in pleated ribbon, or if that'll be too many chevrons on one bodice.
The construction of the main bodice is almost complete...it's amazing how quickly things go together once you've made a few dresses! This will be my fourth dress, and everything is so much easier. The hooks and eyes are being sewn on as we speak. Next up is finishing the neckline and bottom with piping. Then...onto drafting the sleeves! Which I am only slightly nervous about...
Did I mention I need this bodice done in less than a month? I want to wear it one of the days we spend at Fort Snelling, which is hosting a Civil War Weekend at the beginning of August. We're doing dance demonstrations and a Temperance play, in which yours truly plays the daughter of a drunkard who pleads with him to come home from the tavern. Must practice melodramatic swooning...